Ostrich

Health:

12 hearts

Spawns:

Savanna, Wheat Plains

Drops:

1-4 feathers, saddle if already mounted onto.

XP:

3-5

Mob type:

Neutral
The Ostrich is a neutral mob found only in the savanna and
Wheat Plains
.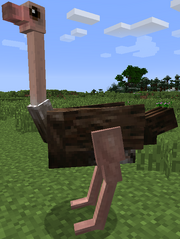 Appearance
Edit
The ostrich has a long tan neck with black eyes. It has a big black body with tan legs flowing down from it. It also has black wings on it's body.
Ostriches are mountable and can be ridden on with a saddle. They live in groups up to 4. When killed they drop 1-4 feathers. Although they are not that common they are an interesting mob with a health of 12.
Ad blocker interference detected!
Wikia is a free-to-use site that makes money from advertising. We have a modified experience for viewers using ad blockers

Wikia is not accessible if you've made further modifications. Remove the custom ad blocker rule(s) and the page will load as expected.