Htaedsirean is a very creepy and frightening music disc that has a broken record appearance with colors in the middle.
Htaedsirean

Made By DaPeaShoota

Item Type:

Decoration

Durability:

N/A

Stackable?

Nope.

How to get:

Unobtainable. Only in creative/mods/Multiplayer Server.

ID:

31173
How To Pronounce
Edit
Tae-ser-een
Summary Of What Happens
Edit
You hear ambient sounds and a scary theme. footsteps, you hear sounds of Endermen, Zombies and Herobrine. you cough up blood and stop for a minute. you hear static mesh and then you hear them attacking you...
Or is there a way?
Edit
Yes. but its technically impossible since you need to use some things from creative mode only.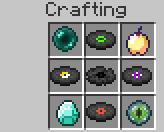 You need the unobtainable Music disc 11,13,cat,Blocks,and the Mellohi.
You will also need an Eye of Ender, Ender pearl,golden apple and diamond.
Seem hard? yeah i know. So in this case it requires:
Skeleton Kill Creeper 4 Times.
Hacking/Mods/Creative/Multiplayer//Commands/Glitch/Notch prob will put it in survival
Rare Diamond find
Ender Killing.
Nether Fortress
Gold.
A tree.
If you try to decode the name, it spells "Death Is Near"