This mob has 500 health and is a boss. It appears in the forest in the overworld
at night.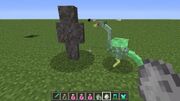 ---
It's very aggressive and can smell you as soon as you go underneath a tree. That counts leaves or bark! It will throw pumpkins that do splash damage 5. After 250 hits it will throw it's head and will explode like a charged creeper, then the horse will gallop away. The headless horseman will keep his distance nd throw pumpkins.
---
Stay out of the way of the pumpkins, maybe attack with ranged.
---
He drops brewing items, a pumpkin head (acts as a mob repellent) and diamonds.
SMP Death Message
Edit
---
(Player) lost his or her head