in awe at the size of this lad. absolute unit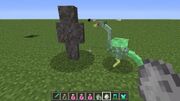 ---
It's very aggressive and can smell you as soon as you go underneath a tree. That counts leaves or bark! It will throw pumpkins that do splash damage 5. After 250 hits it will throw it's head and will explode like a charged creeper, then the horse will gallop away. The headless horseman will keep his distance nd throw pumpkins.
---
Stay the fuck away from the pumpkins, maybe he'll shit you dead with ranged ballsacks.
---
He drops brewing items, a dick head (acts as a mob repellent) and some other retarded cunty shit.
SMP Death Message
Edit
---
(Player) lost his/her dick/twat