Ender Zombie

Health

30

Type

Hostile

Attacks

Spawn

Ender Fortress

Dirt, Sand, Gravel, or any light bock level

Drops

None
Zombified Endermen
that appears in Ender-fortress basements. They have green eyes and they emit black smokes. They are also moan like normal Zombies (much like the Endermen in Pre Release 1.8,) and have two arms sticking out in front.
They act like Zombies, however, they can teleport and not harmed by water. You can exploit their weakness of any light source, as they will catch fire at light le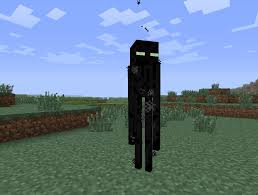 vel 2 or above (any light, not just sunlight). They can spawn right in front of player's view from any block that can be mined with shovels (sand, gravel, dirt, soul sand, mycelium, snow), that is why they can spawn at any light level despite the fact they are photosensitive. They also never spawn from spawners.
Ender-Zombie grinders
Edit
Ender-Zombie grinders are easy even though they never spawn from spawners, just light any Ender-fortress basement with torches, then stand in a 2 block high corridor and watch them burn to death. However, they don't drop anything, so they are rather useless.
They can sometimes rematerialize inside a wall after teleportation, which cause them to suffocate (and proves that they are very stupid.)
They can teleport, despite their lack of Ender Pearls.
They are endermen bitten by zombies which take away the purple eyes and purple smoke but they emit black smoke and have green eyes
Ad blocker interference detected!
Wikia is a free-to-use site that makes money from advertising. We have a modified experience for viewers using ad blockers

Wikia is not accessible if you've made further modifications. Remove the custom ad blocker rule(s) and the page will load as expected.